BIRDEM (Bangladesh Institute of Research and Rehabilitation in Diabetes, Endocrine and Metabolic Disorders)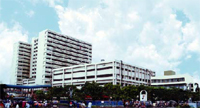 The comprehensive health care delivery to a vast number of diabetic all over the country is well recognized as a unique program of the Diabetic Association of Bangladesh (BADAS). The Association executes this program primarily through its central institute called the Bangladesh Institute of Research & Rehabilitation in Diabetes, Endocrine and Metabolic Disorders (BIRDEM). The Institute has the largest diabetic Out-Patient turnover in the world under a single roof and it has about 700 bed In-Patient hospital with all modern disciplines of medicine. Through its Academy BIRDEM conducts the largest number of postgraduate medical courses in the private sector. With large umber of international collaborations the institute is now widely acclaimed as one of the most advanced research center in the world. This is reflected in the recognition of BIRDEM by the World Health Organization (WHO) as a Collaborating Center for Research on Prevention and Control of Diabetes. It is the first of its kind outside Europe.
Mohila and Shishu Diabetes Endocrine and Metabolic Hospital, Segunbagicha, Dhaka: The Project has been added the existing establishment of BIRDEM as BIRDEM-2..
BIRDEM has the following Departments